Company Overview
CONQUEST Dental Group came to the Austin, TX area in January 2020. We are a DSO/DPO that creates dental practices that provide STAR QUALITY dental care managed by Conquest Dental Group(CDG), LLC.
We build to provide the dentist with the opportunity to focus on dentistry and the opportunity of having a corporate backing partnership and management team.  
Our services:
Accounting & Finance Services
CDG Finance Team helps affiliate practices by establishing and administering accounting procedures, controls, and systems for the development, preparation, and more.
Compliance
CDG provides our affiliate dental offices with services that includes assistance with implementing an office compliance program, internal monitoring regulatory updates, and more.
Credentialing
The credentialing process as dentists become affiliated with the insurance providing companies in order to accept third-party reimbursements is very unique and time-consuming. Once a partner dentist provides CDG with the required information, we handle the entire credentialing process.
Human Resources
From employee relations to talent acquisition, CDG handles all staffing management. We provide our affiliate dental offices with services that include employee relations, payroll, talent acquisition, benefits, compensation, diversity, compliance, labor relations, organizational and employee development, safety and security, and technology.
IT
CDG provides affiliate dental offices with the services needed to help keep their offices working smoothly and in a stable condition.
Services include:
Remote and on-site computer support
On-site management
Telecom/Data services
Cloud network solutions
Data management
Virtualization implementation
Disaster recovery
Maintenance plans
Hardware installations and upgrades
Software implementation
Business network solutions
Network solutions
Training
CDG offers Annual trainings (HIPAA, HIPAA HB300, OSHA, Sexual Harassment), E-Claim training, PPO training, Customer Service training, On-site Dental Assistant training, and much more.
OUR MISSION
To provide the ALL IN ONE APPROACH TO OWNERSHIP and best management to our dental partners as they focus on their practice and patients.
Meet Our CEO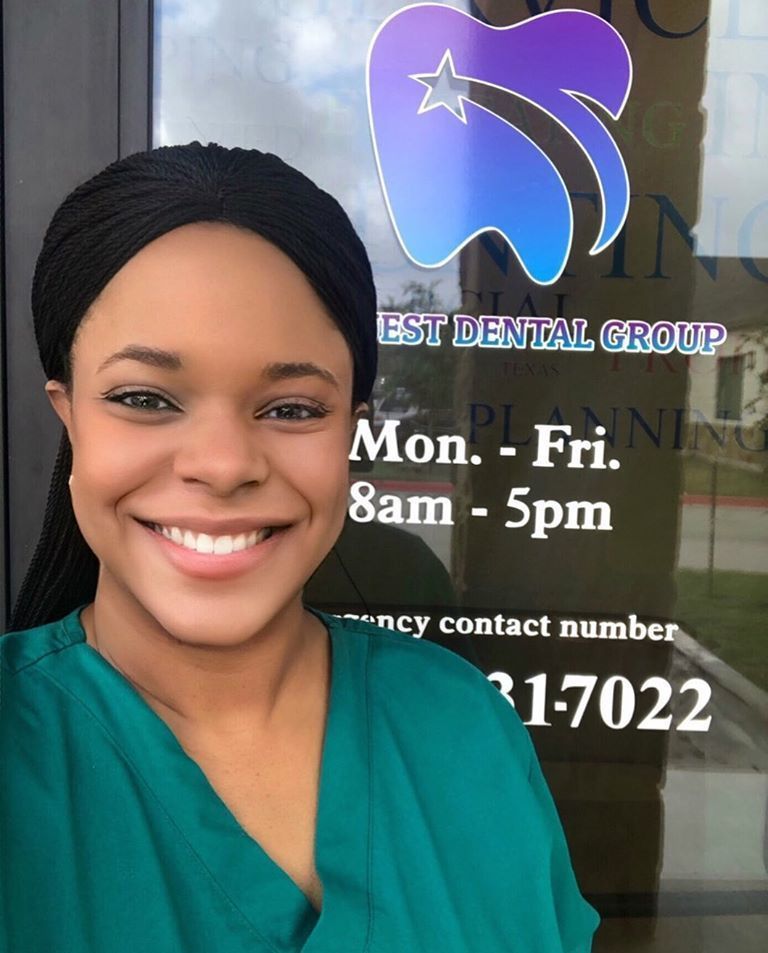 Tawana Covington-McCou EFDA, BSHA, Mini-MBA,
CEO & Director of Operations
Tawana Covington-McCou, is a licensed dental professional (EFDA). She also holds a mini-MBA, Business Management Diploma and certifications in Strategy & Operations, Finance & Accounting, Marketing & Accounting, Human Resource Management, Essential Management, and International Business & Economics. With more than 25 years in the field, she has seen the challenges that oral healthcare has been facing. This inspired her to create a dental support organization, Conquest Dental Group (CDG) LLC, to provide a remedy to these dental care problems.
Tawana knows exactly how to make sure all offices are managed thoroughly and taking the weight off our affiliate offices.
As well as being a licensed professional, she also seen the challenges patients endured and decided to create a model that will ensure the well-being of patients, their financials, and comfort. Even though she's the DOMD she doesn't mind jumping in when needed with clinical/management. Among her many hats, she also provides the foundation for associates to thrive as they excel toward owner/partnership under the conquest brand or a name of their own. She's a Summa Cum Laude student who was honored both nationally (ΣΑΠ) National Society of Leadership Success, National Society of Collegiate Scholars & internationally (golden key) Golden Key International Honour Society. She's happily married with 2 boys ages 24 & 21. She also likes to decorate and design if time allows. She's currently pursuing her doctorate degree in public health (DrPH). She's a proud member of multiple organizations including AADOM American Association of Dental Office Managers (Austin Chapter).
Meet our Financial Specialist
Doreen Lumpkin, A.A.S.
CDG Ins. Specialist & Financial Director in Training
Doreen – enjoys being a part of the Conquest Dental Group team. She earned an A.A.S degree in Medical Office Administration, and a Computer Software Specialist (Microsoft Office) Certification at SouthWest TN Community College. She presents to CDG experience in insurance, claims, billing, financial coordinating, office management, a wide range of computer skills, and more than 20 years of customer service. Being a member of a large family, with a husband, children, and grandchildren, she understands the importance of family financial obligations and does her best to eliminate any unnecessary out of pocket costs to the patients. She takes pleasure in educating patients concerning their insurance, dental fees, and having the opportunity to make affordable payment arrangements as CDG offers to the people of our local community and beyond. She also loves spending time with her family, helping people, designing logos, business cards, pages and other things in her spare time.